1930 Census Resources for Genealogists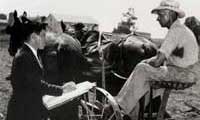 Welcome to 1930 Census, the leading online source for all census information (not just 1930 census)! We encourage you to explore the many free census resources we provide for the U.S. Federal Census, individual State Census, and even some lesser-known City Census that were conducted in a similar fashion. In addition to U.S. census records, we also include details for International Census resources (Canadian Census, British Census, and Irish Census).
The menus above left expand to reveal more free census resources and other information helpful for your search. If you are new to genealogy, you may wish to start with the Census Research 101 link in our census basics section. Once you have a general understanding of how and why census records were created, you'll be better equipped to search for and interpret findings.

This site was created to share free census research tips and related information with our fellow family history enthusiasts. While every attempt is made to verify the accuracy of information shared, it's possible we've missed something. If you find anything missing or incorrect, please contact us so we can update our site for the benefit of all visitors. In addition to our own information, we also link to other useful resources, some which require subscriptions or other means of payment. We do not provide free access to search census transcriptions.
To our knowledge, no such comprehensive service is available free via the Internet.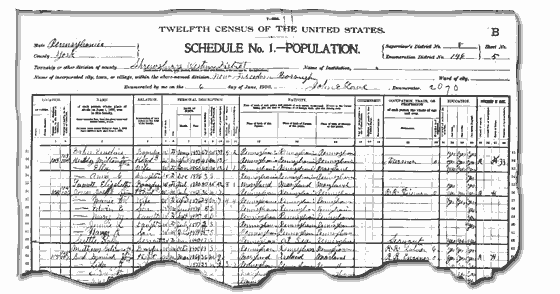 Getting Started — Where Should I Go Next?
The image above shows a miniature representation of a partial page from one 1900 Census Schedule. Many researchers are anxious to jump right in and search for members of their family, but without understanding some census basics, you may never find the people you're searching for and, more importantly, you won't understand why you can't find them.

As each decade passed, the government gained experience in the daunting process of conducting an enumeration of the population. Whether a U.S. Census, Irish Census or some other geographic area (country or otherwise), there are many common elements in how the original documents were collected. Even more important, the use of technology in digitizing and transcribing records for online research has added another element that needs to be understood.

We hope you enjoy our free census resources and encourage you to share the address of this Web site with others. To help support our efforts, please click on one or more of our sponsor links appearing below and at right. The small financial support from these advertisers and sponsors helps offset the costs of creating, hosting, and maintaining these free census resources.
• • • • • • •
Copyright © 2011 by Family Tree Brands, LLC. All Rights Reserved.

Google Your Family Tree | Vital Records | Immigration Records | Celebrity Genealogy | 1940 Census | Online Marketing